Search | Order | What's New

Summer Salon show: Surfing the International Print World, #5

On display are the works of a selection of artists from Japan, Australia, Germany, The Netherlands and the USA.

Asia: Susumu Endo, Yoshikatsu Tamekane and Katsunori Hamanishi

Australia: Jörg Schmeisser

The Netherlands: Rolf Weijburg

USA: Curlee Raven Holton, Faith Ringgold, & Princeton artists: Thomas George and Margaret Kennard Johnson and others

© 2005 George Cramer

When: July 29 – August 28, 2005

Hours: by appointment only
11:00 AM to 4PM
Tuesday - Saturday
Call to set up a time:
609-921-1142

Where: The Williams Gallery
6 Olden Lane
Princeton, NJ


Portrait of John Lennon © 1983-2005 Charles Wells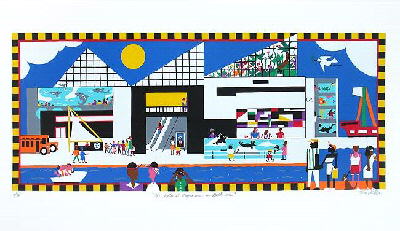 © 2005 Tom Miller
---
Of special interest are ……
New works from Jörg Schmeisser's "Breaking The Ice - A Journey to Antarctic" series may also be seen. The etchings resulted from the artists travels on the icebreaker Aurora Australia on its annual re supply trip to Mawson and Davis stations in January/February 1998.
3 New Works: American artist Faith Ringgold, including "Coming From Jones Road …#6 (2005) "
Etchings by Charles Wells include portraits of Albert Einstein and John Lennon.
Scenes of Princeton by Michael Berger: Einstein house, Nassau Street, Lake Carnegie, and others.
Early computer works on paper by late American/Indian artist George Cramer, 1942-2005, include mono prints, printed at Tandem Press of The Univ. of Wisconsin,
Silk-screens by late African American artist Tom Miller.
Home Page | Artwork | Framing | Restoration | Shows & Events | Online Store | Master Works | Pioneers | Princeton
Contact Us | About Us | Art Links
This page is copyright ©1995 - 2018
William Bock Fine Art LLC