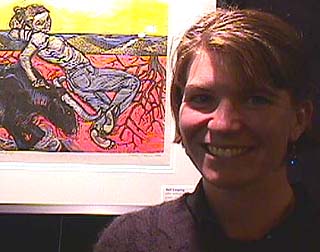 Kirsten Francis
Kirsten Francis combines personal and mythological themes in dynamic reductive woodblock prints. Her imagery is autobiographical, yet universal, and poignantly portrays the heroic struggle of the individual in an unsure world. Her process is intuitive, and she often begins without a concrete concept for the final work. The end result is the combination of her initial ideas with concepts discovered during the carving. Kirsten carves using a rough, yet practiced mark which results in energetic, gestural linework that enhances the personal quality of the images she creates.
Click here for Kirsten's Artist's Statement

"Beginning Again"
Kirsten often breaks up an image into distinct graphic regions similar to panels in an illustrated manuscript or graphic novel. "Beginning Again" is broken into three horizontal bands that effectively frame the central figure with bold and emotive graphic designs. the piece was inspired by the death of a family member who was an avid gardener. During the time of her passing, within site of her window, Kirsten's family worked together to tend her garden.


"Fever Dream"
In "Fever Dream" a woman clad in jeans and T-shirt defends herself with a sword from a menacing flock of chickens. Like images of St. George and the Dragon, the image evokes a sense of heroism, and illustrates the struggle between the individual and the endless challenges that life places in our path. The piece emotes tension, but at the same time the absurdity of the scene adds a humorous element to the work.


"Fox and Chickens"
Images of animals are a common theme in Kirsten's work, particularly chickens, which often appear agitated, even menacing, and charged with hidden meaning. They seem endowed with human qualities, like animals in traditional folk tales. In "Spirit Guides" they surround a woman in black, standing passively, like waiting ancestors. The woman in turn cradles a sleeping fox. The image is framed by a large black rectangle that evokes the underworld, and encloses all but the woman, who stands in light.


"Swan Story"
Like Leda's encounter with Zeus, a woman confronts and considers the swan. The image captures a moment of discovery and confrontation that is playful, mischievous, and charged with expectation. The inclusion of text which reads:"One day Leda discovered an egg hidden under bushes by the edge of the water.", emphasizes the narrative nature of the work. Kirsten's use of fields of "hot" color, particularly vibrant yellow and rose, infuse her images with tension, heat, and urgency, and contributes a great deal to the success of her work.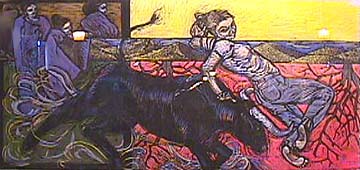 "Bull Leaping"
In "Bull Leaping" Kirsten portrays the desire to fling ones self into life, daring to take chances, in order to be truly alive. Like the acrobats of ancient Crete, the central figure leaps recklessly over the horns of a charging bull. Passive onlookers watch, perhaps in envy. In this piece the central horizontal stripe doubles as a horizon line, creating a strong sense of landscape.