Adina Gwatkin
"Practically Art makes the ordinary distinctive and unique."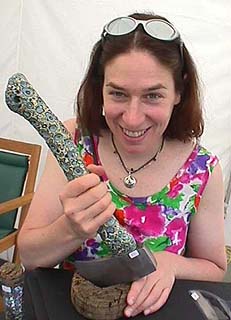 Wanna buy an ax?
Adina Gwatkin transforms common household tools and implements into vibrant, personalized works of art. I first met Adina at a craft fair in Seattle Center, and was impressed by her outgoing, energetic manner, and the vivacious quality of her work. Her display inevitably draws a crowd, and her pieces demand to be picked up and handled, a phenomenon that becomes a challenge when things get busy. Adina lives and work in British Columbia, and travels throughout the Pacific Northwest selling her work.

Adina's work succeeds in adding a pleasing aesthetic element to something practical, resulting in something personal. This is arguably one of the earliest forms of art. Adding personal decoration to practical forms has been practiced since pre-history, and may have given birth to higher forms like sculpture and painting.


Her layered designs make use of a rugged enamel similar to that used creating bowling balls. After dipping, small scallop shaped chips ( shown here ) are carved away at varying depths to reveal the colors layered underneath.


Adina sells her work under the name "Practically Art". Her company specializes in painted, wooden handled tools including knives, hammers, garden implements, and kitchen utensils. Adina works with a wide range of items from high quality Henkel knives, to unique used tools. Adina states; "I like finding something that has been used, reworking it, and having it used again, perhaps even by some-one related to the original owner."


20 layers of brightly colored enamel are applied, and then topped with gold or silver leaf. The handles are then carved to create ringed, multi-colored designs. Several coats of clear urethane are applied to complete the process. Adina emphasizes quality in every piece she creates, insuring they will be functional for the lifetime of their owner, perhaps even for generations.


The palette of each piece varies according to the colors used and the ordering of the layers. Some contain all the colors of the rainbow giving them a cheerful psychedelic look. Others are more controlled like the black and white, and flag-like red white, and blue designs shown here.


Adina's works are fun to look at, hold, and to use. Because they are aesthetically pleasing, unique, and functional, they make great gifts, and are nearly guaranteed to be used with pride and enjoyment by their lucky owner. They are durable enough to be fully functional, and are dishwasher safe!
Try One! You'll like it!
Adina can be contacted at:
Adina Gwatkin Designs
Box 1089
Garibaldi Highlands, B.C.
Canada, VON 1TO
604-892-4498


Home Page | Artwork | Framing | Restoration | Shows & Events | Online Store | Master Works | Pioneers | Princeton
Willard Page Collection | William Bock's Fine Art Catalog Rasoniee
Contact Us | About Us | Art Links
This page is copyright ©1995 - 2019
William Bock Fine Art LLC