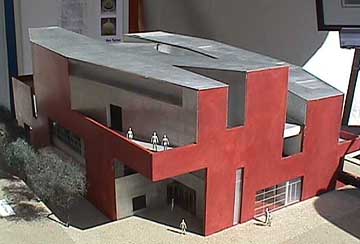 The New Bellevue Art Museum

Proceeds from the fair assist in the funding for The New Bellevue Art Museum, now under construction at
Ne 6th Street and Bellevue Way NE in Bellevue, Washington. In 1975 the Bellevue Art Museum opened inside Bellevue Square, adding a unique and creative feature to one of the first indoor shoppng centers in the US. 25 years later, the museum will leave its birthplace and take a permanent place as one of the major cultural attractions in downtown Bellevue. The museum is designed by architect Steven Holl, and will open its doors in 2001.
The museum will feature an auditorium, classrooms, four large gallery spaces, six outdoor terraces, and an impressive atrium for openings, performances, and gala events.



Visit the official Bellevue Art Museum website.
http://www.bellevueart.org/



Another outstanding Bellevue Museum is the Rosalie Whyel Museum of Doll Art. Click here to visit their website.
http://www.dollart.com



Visit Art Guide Northwest for a brief synopsis of the fair, and other art events and venues in the Seattle area.
http://www.artguidenw.com
To donate to the museum
call 425-454-3322
or send email to bam@bellevueart.org

Home Page | Artwork | Framing | Restoration | Shows & Events | Online Store | Master Works | Pioneers | Princeton
Willard Page Collection | William Bock's Fine Art Catalog Rasoniee
Contact Us | About Us | Art Links
This page is copyright ©1995 - 2019
William Bock Fine Art LLC