Elizabeth Scott and Hal Lindhagen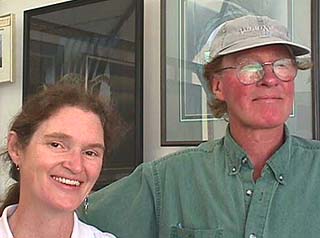 Scott and Lindhagen work together as Arra Graphic Originals Limited to create elegant, refined limited edition serigraphs focusing on landscape, animals, and naturalistic themes. Scott and Lindhagen strive to make each edition they create truly unique by experimenting with, and refining a wide range of original printing techniques. They refer to their works as "Screen Paintings" or "Multiple Originals" in order to differentiate them from mass produced, commercial screen printing.



"The Leap" Is an expertly crafted, and highly detailed rendering of a cat in motion. The speckled design on the cat's coat contrasts effectively with the dark background and parquet floor, emphasizing the cat suspended in mid spring. The subtle use of motion blur in the center panel adds to the effect. Although not visible here, fine details in the texture of the cat's coat make this piece particularly striking.

"Arbutus" is a successful image on multiple levels. Although it is undeniably an illustrative image of a windswept hardwood, it is also satisfying on an abstract level. The image is rendered using a gestural and exaggerated mark in the creation of the leaves and landscape. The twisting branches are active and forceful, giving the piece a lively quality that holds the viewers attention. Like many of their works, the image makes use of pure color, strategic gradations, and the crisp edges of the silk-screen stencil to create a bold, expressive image. The palette is natural in tone, but high in saturation, adding a satisfying vibrancy to the work.


"The Saddle II"
Although seemingly just a pictoral image of a raven descending from a mountain pass, "The Saddle II"is actually inspired by a near death experience for Hal and Elizabeth which occurred while flying close to Mount Waddington's 12000 foot saddle-between-peaks in a friend's plane. The plane suffered engine failure at that altitude, and luckily for all three on board, found a safe landing on a deserted logging strip. "The Saddle I" depicts a Grumman Mallard aircraft in the same mountain scene.


A carved wooden porpoise suspended from the peak of the booth accents the naturalistic themes of Scott and Lindhagen's work. An exception to this theme, and an outstanding work in general, is the image below the porpoise, in which freighters sit at anchor in Vancouver Harbor.


"Port of Call, Vancouver"
focuses on the monumental character of the huge oceangoing freighters, the subtle hues of the foggy atmosphere of the scene, and the elegant reflections of the vessels in the harbor. At 18hx22w, the piece is large, and is superbly crafted. The gentle gradations and subtle shifts of color in the sky, and on the hulls of the ships, testify to the skill of the printmaker, and the refined technique of the work.


"Ranier"
This image of the Seattle skyline with Mt. Ranier in the distance combines photo reference with a careful choice of color reminiscent of the palette of Japanese prints. The overall effect is atmospheric and slightly idealized, giving the impression of the city as a jewel nestled in the natural splendor of the Pacific Northwest.


Arra Studios is located in an area of natural splendor which provides an endless inspiration for the work of this dynamic cooperative pair. To see a wide range of their work, and their awe inspiring home, visit their web site at:
http://www.sunshine.net/arra/