Susan Tremont creates painted ceramic sculptures with organic forms heavily influenced by the subject portrayed, rather than by any obvious tradition or style. Susan works on multiple levels, focusing on figurative forms, richly painted and textured surfaces, and spatial relationships, resulting in a body of work that effectively blurs the lines between painting, sculpture, and ceramics.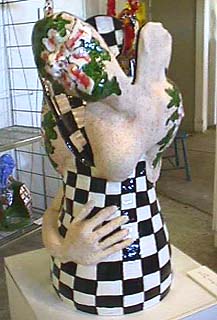 Although they are obviously large vases or centerpiece-like objects, her works are also narrative sculpture. Like the work of Mattie Leeds, the painted surface is as important as the form, even more so because the two are so thoroughly integrated. Most of Susan's pieces reference human anatomy, with faces, hands, and the graceful curves of the human body. Others are scalloped, with rounded petals like cacti, the erotic inner folds of a shellfish, or voluptuous budding flowers. The end result is something mysterious like an anemone, at first disorienting, and then delightful in its complexity.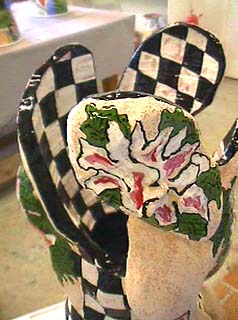 The painted surfaces combine strong design and pattern with flowing painterly details in critical areas. Many contain richly colored floral designs, often on facial areas of the piece that seem to represent sensitive character, or inner beauty. Her older works are finished with a high gloss that adds vibrancy and saturation to the already full colors she uses.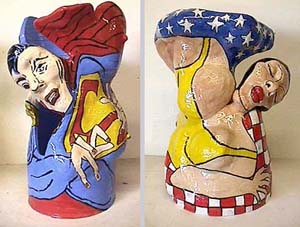 Painted elements that are not pure design tend to be narrative in nature, and combined with the form of the piece, create a story, portrait, or emotive statement. Many reference pop-culture themes like Superman, Monopoly, maps, highway signs, and the Tarot. Superman and Superwoman are full bodied and colorful, like the promise of the American Dream. They are also contorted and exaggerated, like a political caricature. Many of Susan's works share this irony and sense of humor that pokes fun at cultural stereotypes.
Unlike most functional ceramics, an important feature of Susan's work is the attention paid to both the inner and outer surfaces. Like the subconscious mind, the interior reveals hidden secrets and inner meaning, and literally adds another dimension to her work.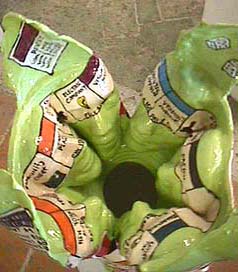 By looking in, the viewer both satisfies an undeniable curiosity, and learns something new that adds to the total effect of the artwork. Another significant theme in Susan's work is her representation of the human form. Most of her pieces are actually figures, disguised and abstracted by the dominant painted surface and the form of the vessel.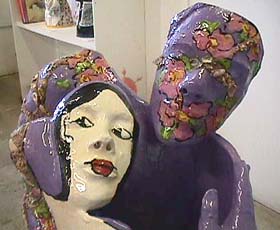 Although some of her pieces are satirical, most are more personal in nature. They are emotive portraits that evoke feelings of intimacy and passion. Some enhance these feelings by combining multiple figures into one vessel. Like a loving couple, two become one, frozen in an eternal embrace.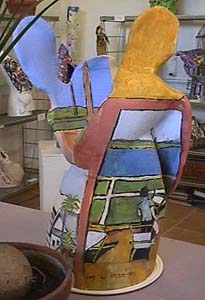 Susan's newer work has taken on a more subdued finish, with muted organic colors in pastel blues, sienna's and ochres, creating a Mediterranean or Southwestern feeling. These works are three dimensional representations of the landscape paintings of California artist Richard Diebenkorn. Painted scenes are superimposed on both the inner and outer surfaces as if projected. The boundaries between the painting, the sculpture, and its environment become confused. The result is an awareness of the piece as both an object and an image.