Clown Fish
© 2001 William Bock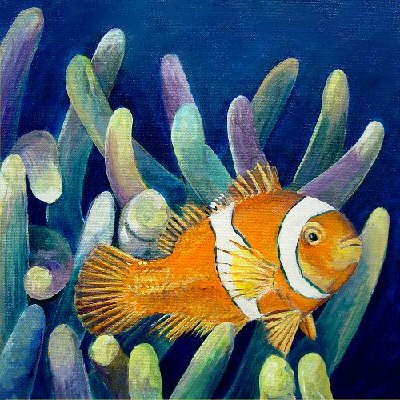 Limited edition hand signed by the artist.
William Bock
Miniature Giclee on paper, edition of 900
Image size 4" x 4" Paper size 8½" x 11"
$30.00
Standard Giclee on paper, edition of 150
Image size 9" x 9" Paper size 13" x 19"
$99.00
Large Giclee on paper, edition of 150
Image size 15" x 15" Paper size 17" x 22"
$199.00
All prints are printed with museum quality archival inks on heavy acid free fine art papers (Giclee).
Image sizes may vary slightly. It is recommended that exact framing measurements be taken from the actual print.
Each print, with the exception of the miniature format edition, is accompanied by a signed certificate of authenticity from artist William Bock.
Each edition size also includes an additional 25 AP's (artist's proofs). You may receive a signed artist's proof or a signed numbered print when ordering any print. Artist's proofs are considered by some to be more collectible and will be sent, while available, after which numbered prints will be sent.