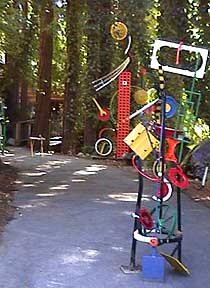 DAY 4, Sunday, October 13

It was my last day in Santa Cruz, and I knew I had to choose artists wisely, so I started out my morning at the Santa Cruz Art League, to have a look at the gallery show.

Not far from the Art League gallery, on a street highlighted with colorful victorian homes, I had a chance to view the paintings of Ed Penniman and the vibrantly alive pastels of Gunars Berlings.

Lynn Zachreson lives in a delightfully landscaped bungalow on Ocean View Avenue. Her paintings are boldly graphic compositions, derived from her life experiences, emotions, and dreams.

Russell Brutshe was ready to hit the road to Toas. As I approached his cozy home on Glenwood Avenue, I walked past the open doors of his Chevy van. Inside was a sign that proudly stated "New Mexico or Bust!". The interior was appropriately decorated with bovine seat covers and cowboy cushions on it's camper benches.

Sean Monaghan works with molded metal and glass. His sculptures tease the viewer into thinking they are functional. His pieces bring to mind industrial valves, or brass ship fittings, or decorative lamps suited for the facade of an art nouveau skyscraper.

Susan Rothenberg creates monumental and empowered images of women. Susan lives near the center of town in a slightly worn white colonial cottage. Her yard is creatively landscaped with concrete sculptures and floral accents.

I knew who I would visit last, since long before the show began. I headed north into the hills, on a pilgrimage to the home and studio of Bob and Judy Dykstra-Brown.





Home Page | Catalog | Featured Artist | Visiting Artist | News | Fun | Info