Space Mission One an Action and Strategy game

Purchase the full version of this game on the gallery order page.

Check out this Mini Online Demo of the game
---
Space Mission One is a one player game that combines arcade style action with skill and strategy. Depart from earth on a mission to search the galaxy for many types of pesky alien spacecraft.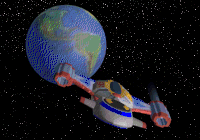 You will have to discover each enemy's weakness in order to complete your mission. There are many types of aliens, space hazards and optional asteriods to contend with. They may confront you one at a time or in swarms!


If you are not successful, you may be blown to bits.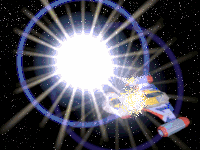 Space Mission One is fun, fast and easy to play. The game features colorful 3D endered art and animated sequences of planets, explosions, worm holes, and alien spacecraft. There are four skill levels available.
The user interface is fully implemented via the use of a 2 button mouse. No joystick is required.
High quality, 256 color graphics are supported for 640X480, 800X600 and greater screen resolutions. There are user adjustable graphics options to support fast or slow graphics adapter cards.
Cost: $2.99
Specify catalog number BDG001 on the printable Shop The Gallery order form.
You can download a limited play demo version of this game! Updated version 1.2b-demo now available.
Intro screen
All images © 1994-1998 Douglas W. Bock
Design and Programming: Douglas W. Bock
Artwork and Design: Jon Bock
The artwork in this game is rendered in high quality, 256 color graphics.
The game is shipped via U.S. Mail and contains 3.5" (HD - 1.44 meg) diskettes, installation instructions, license agreement and registration information. Prices subject to change, limited warranty.
Hardware Requirements:
IBM Compatible PC with 386 - 25 or better Processor
Windows 3.1, Windows 95 or Compatable operating system
2 Meg memory minimum
2 Meg of hard disk space required to install game.
256 color or better video card.
Mouse
download a demo version Mini Online Demo
Home Page | Artwork | Framing | Restoration | Shows & Events | Online Store | Master Works | Pioneers | Princeton
Willard Page Collection | William Bock's Fine Art Catalog Rasoniee
Contact Us | About Us | Art Links
This page is copyright ©1995 - 2019
William Bock Fine Art LLC